World Tour London Community Sprint
Date: June 30th, 2023
Location: London, UK
ICYMI: On June 30th, the day after Salesforce World Tour London, The Commons hosted a Community Sprint with a bursting room full of almost 100 partners, customers, and staff on the Ohana Floor in the London Salesforce Tower. Here's a quick rundown of what our Sprinters created and worked on to share with the broader Nonprofit and Education Salesforce community.
What's a Community Sprint? Sprints are Salesforce-hosted community innovation events (similar to a hack-a-thon) that are regularly hosted to bring partners, customers, and employee volunteers together to identify, prioritize and build solutions that make using Salesforce more impactful for nonprofit & education organizations. Want to participate in the future or stay in the loop for upcoming events? Join our Trailblazer Group to stay tuned to Learn more!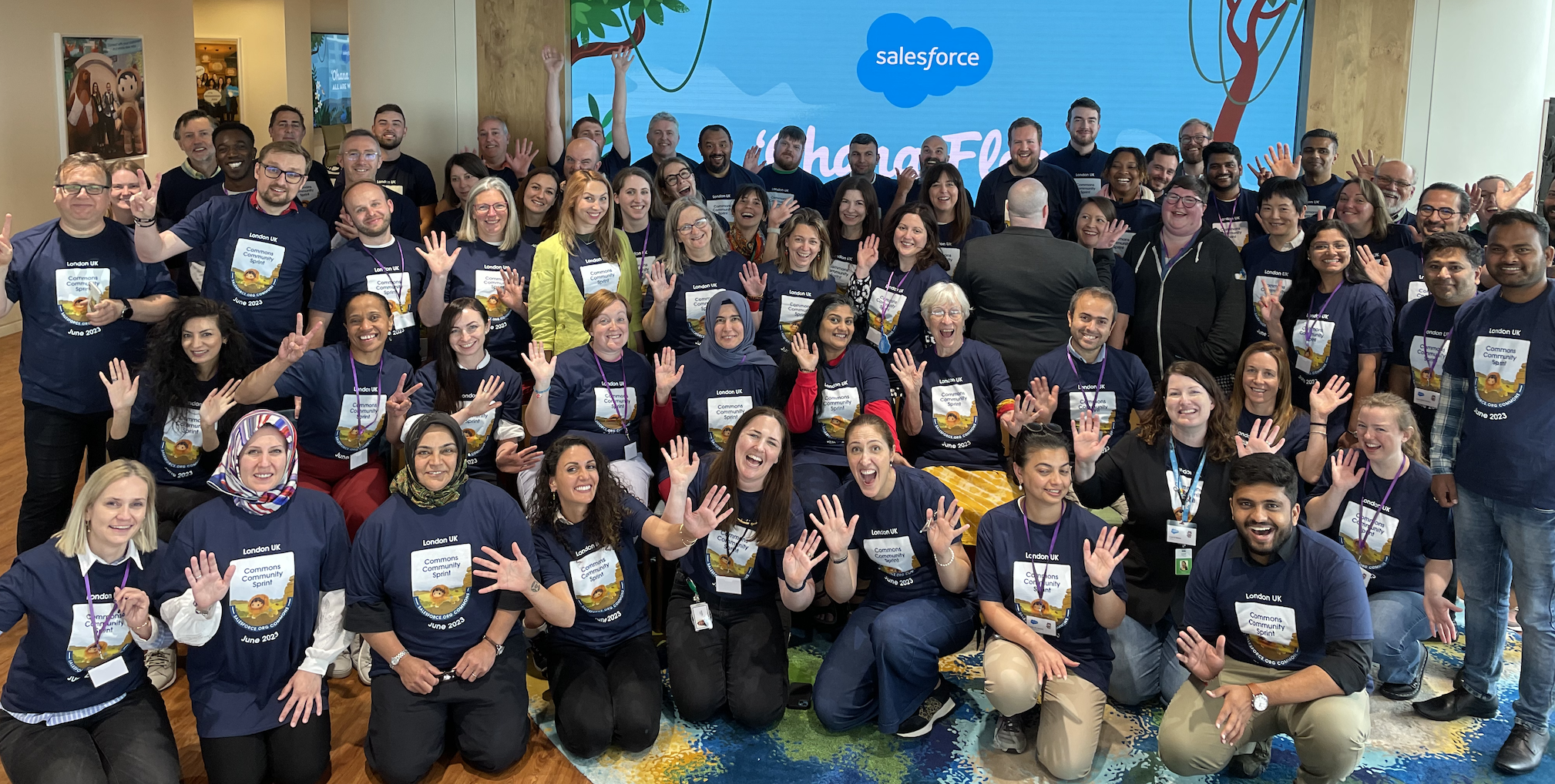 This is our second time this year activating our London Sprint Community and the feeling in the room was incredible! We spent the day working alongside other Salesforce Nonprofit and Education volunteers contributing to existing projects like Animal Shelter Starter Pack and UK Technical Collective, land launching new initiatives like an AI chat prompt library for Nonprofit and education use cases. We heard inspirational greetings and encouragement from EVP Nonprofit leader Mike Wolff and VP of Trailhead EMEA Stuart Mills, and had a fantastic time connecting as a community after the Sprint at Swingers Crazy Mini Golf. All in all, nothing compares to time spent with our community and our attendees delivered on all fronts.
We also want to give a huge thank you to all of the Salesforce staff who volunteered their time at the event - we couldn't do it without you, thank you!
"I can't believe how much I've gotten out of today. Not just the project, but it's been brilliant - the synergies, asking questions to people at my table, the support I've received. I've learned more in the last 2 hours than I have in the last 5 weeks" - Community Sprint Participant
Sprint Project Recap + New Teams and Community Activations! At every Community Sprint event, participants are encouraged to work on and offer their contributions to existing Commons teams to further maximize their efforts and impact. Along with this, Sprinters are also prompted to innovate on current challenges they face in their day-to-day to create NEW ideas and solutions for our Nonprofit and Education community.
Take a look at what our Sprinters in London worked on after asking themselves "What is a current challenge my community struggles with and what can I do to solve it?"
What was worked on at the Sprint?
What's Next? Feeling a little FOMO reading about the incredible impact the Sprint community creates for Nonprofits and Education organizations? Well, Save the Date for our next Community Sprint in our brand new Chicago Salesforce Tower on October 30th and 31st (a spooky Halloween Sprint!). No tricks, just an impactful treat you don't want to miss!
Don't miss our upcoming events! Join the Commons & Sprints group in the Trailblazer community and be the first to hear about where we'll be Sprinting next.
---